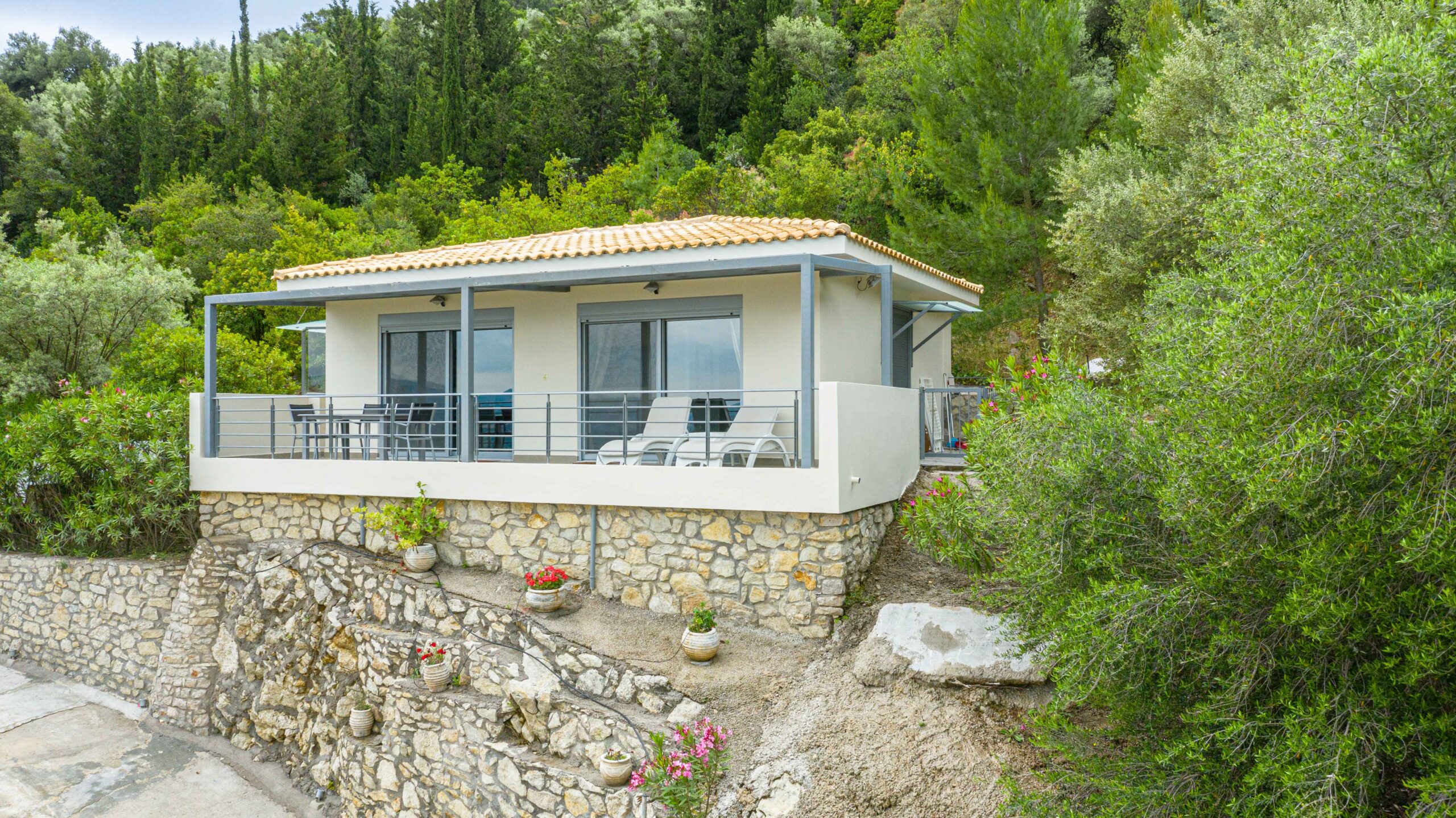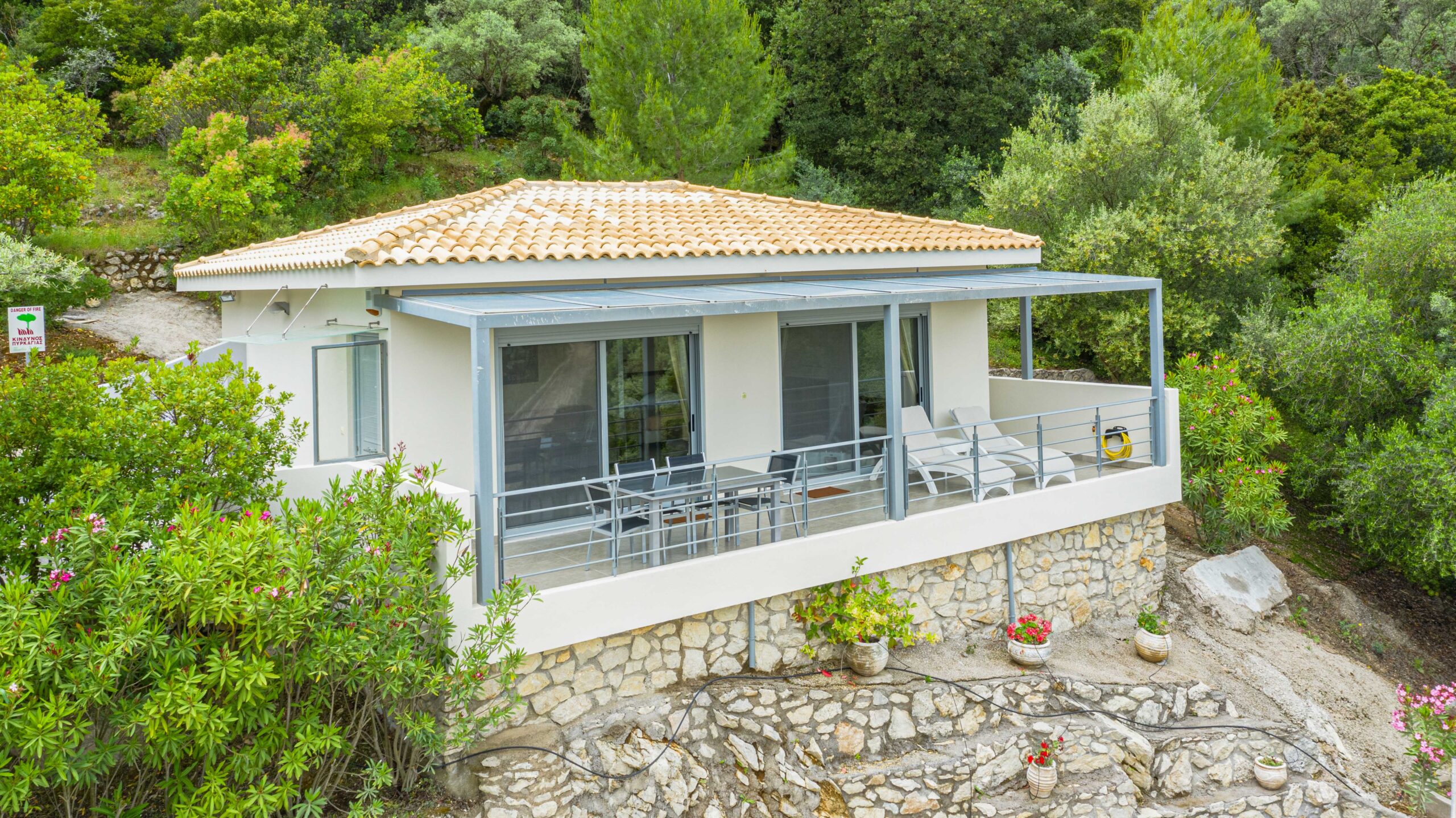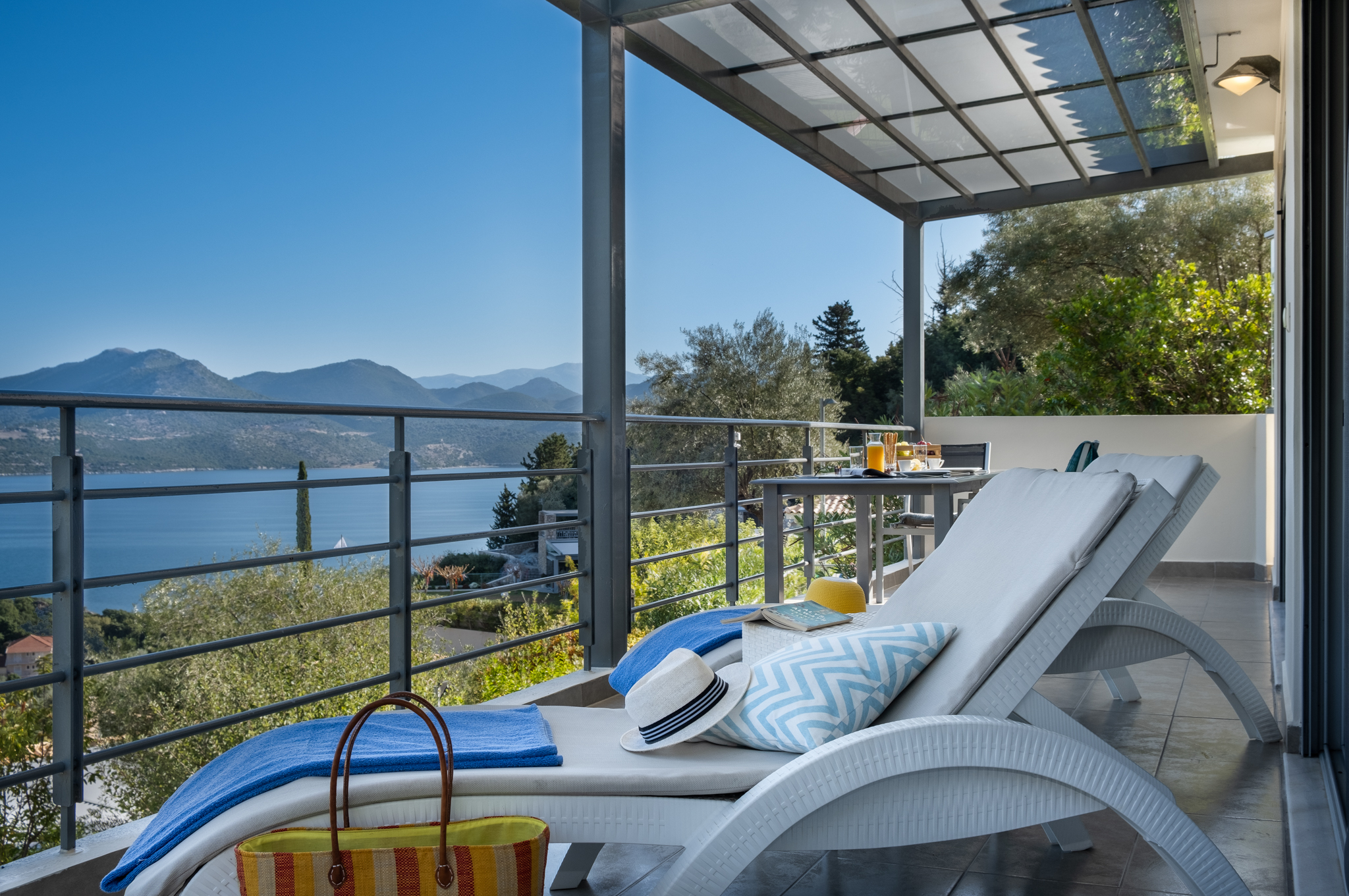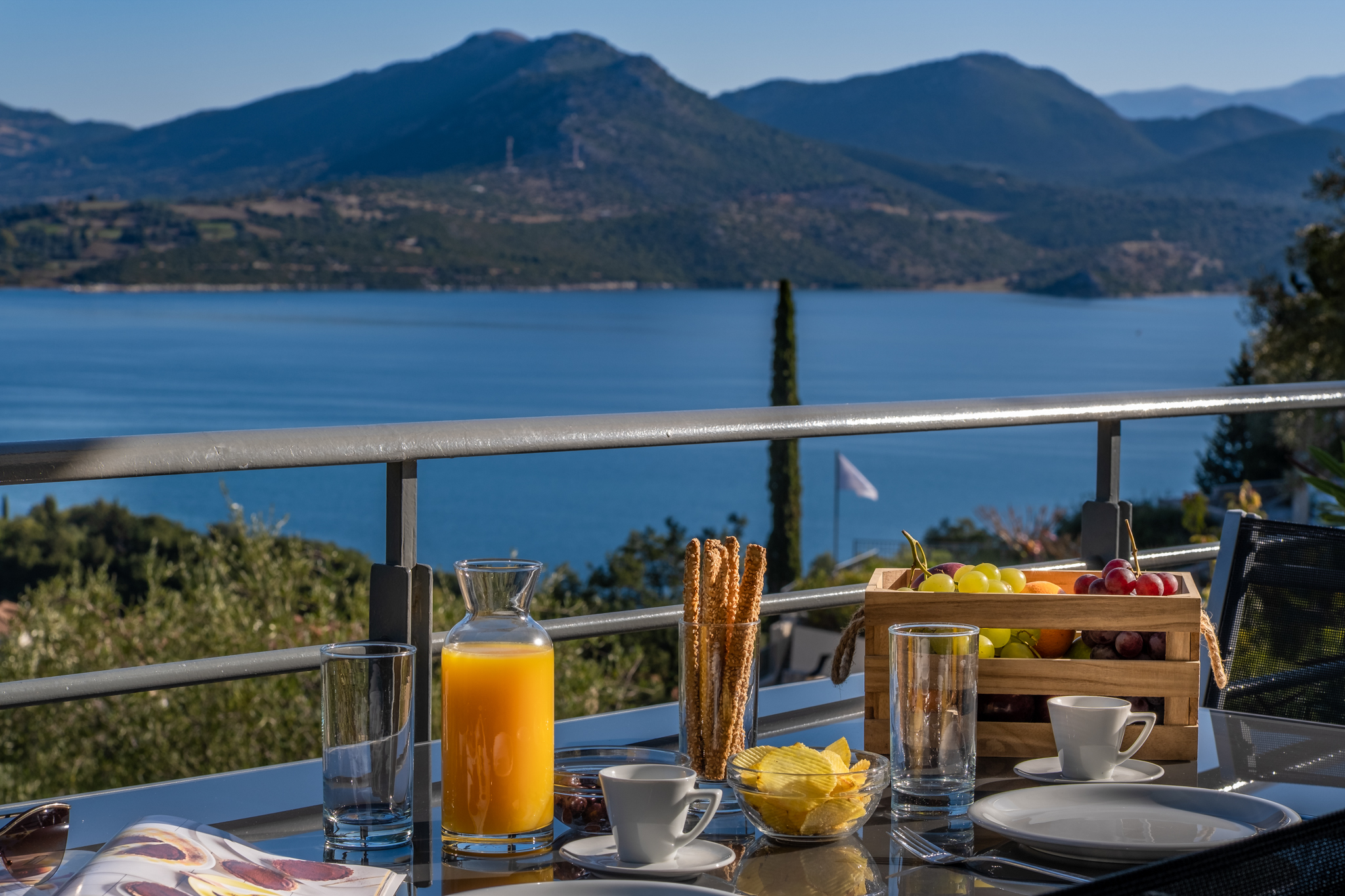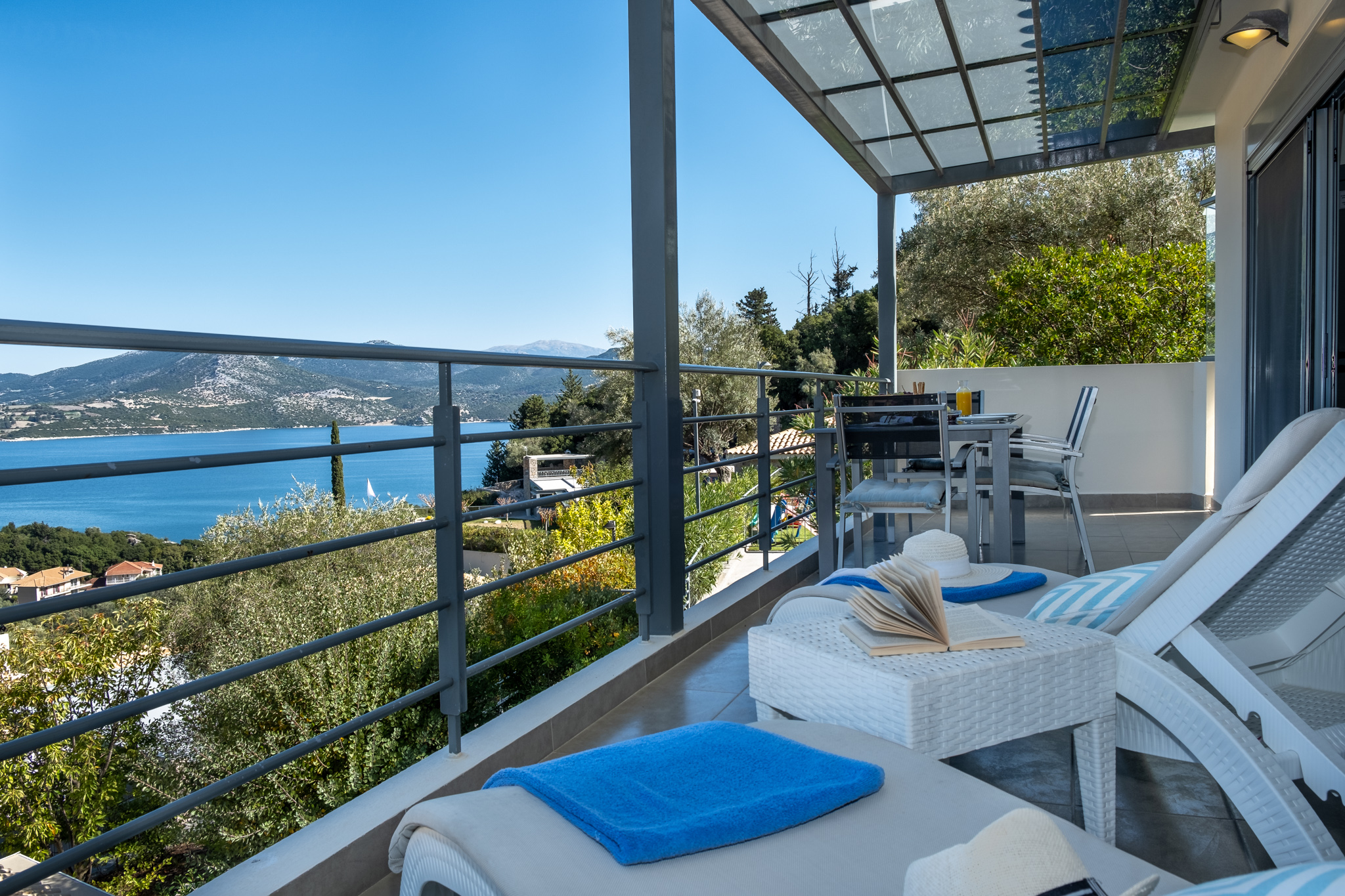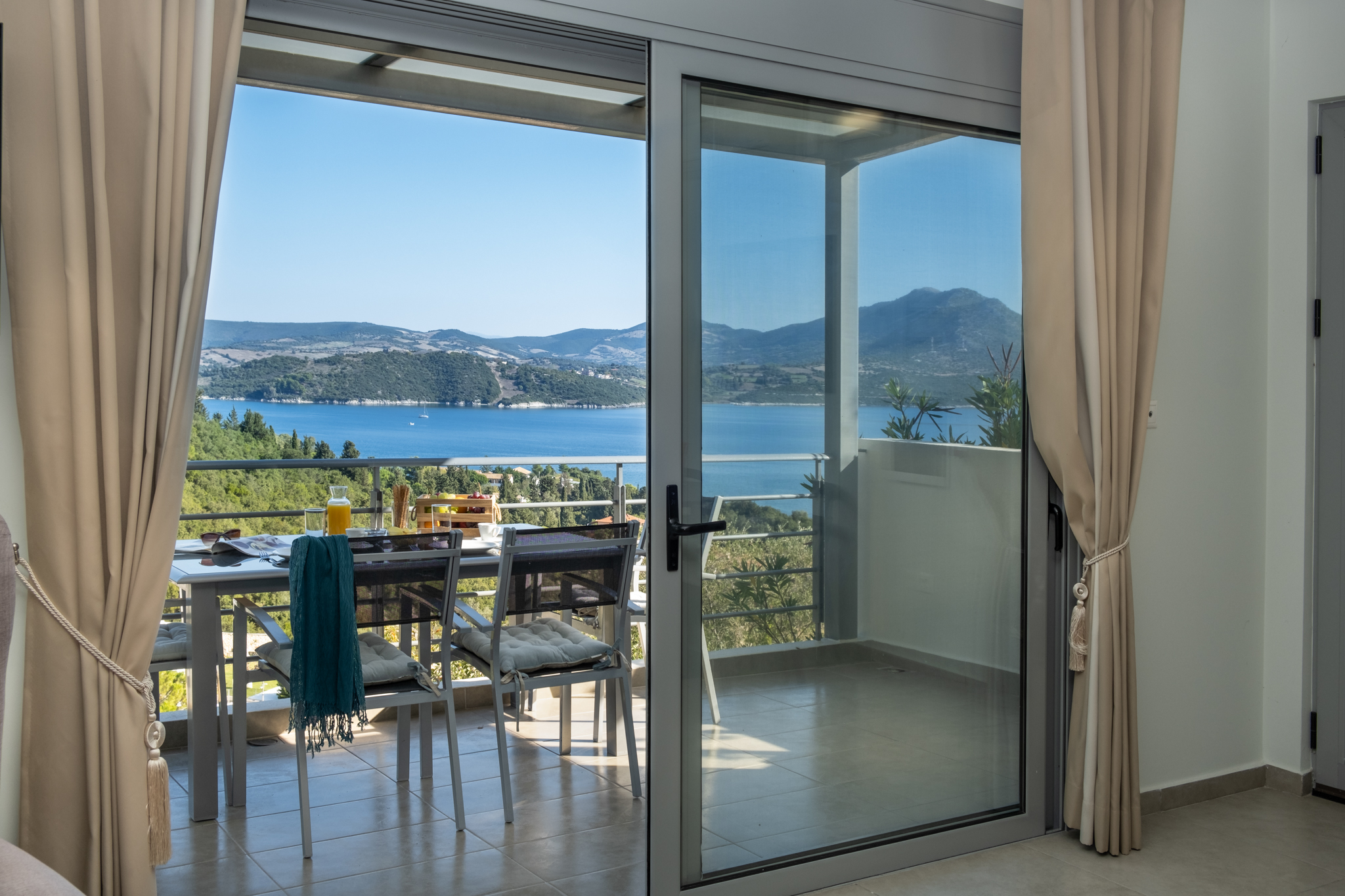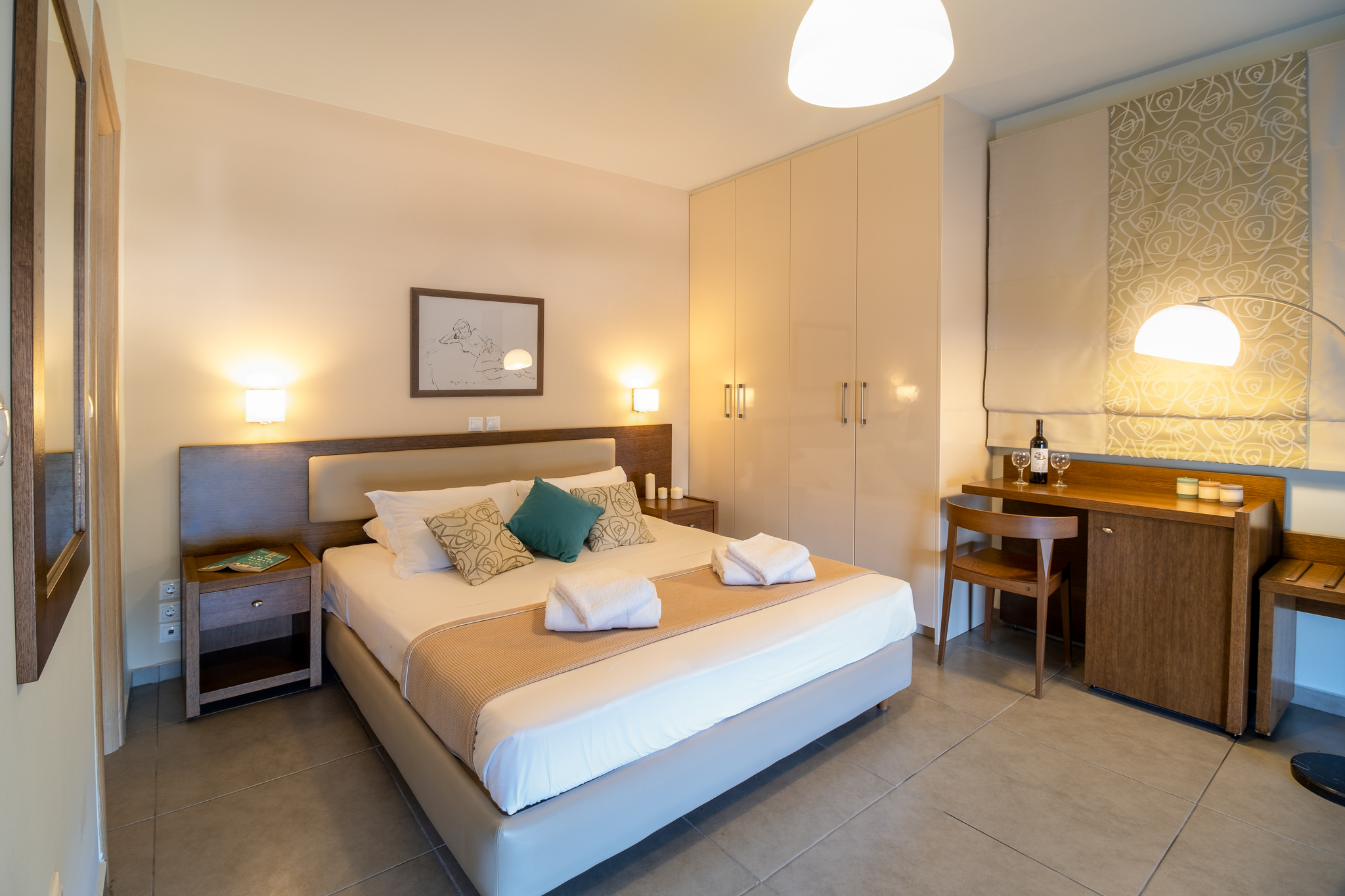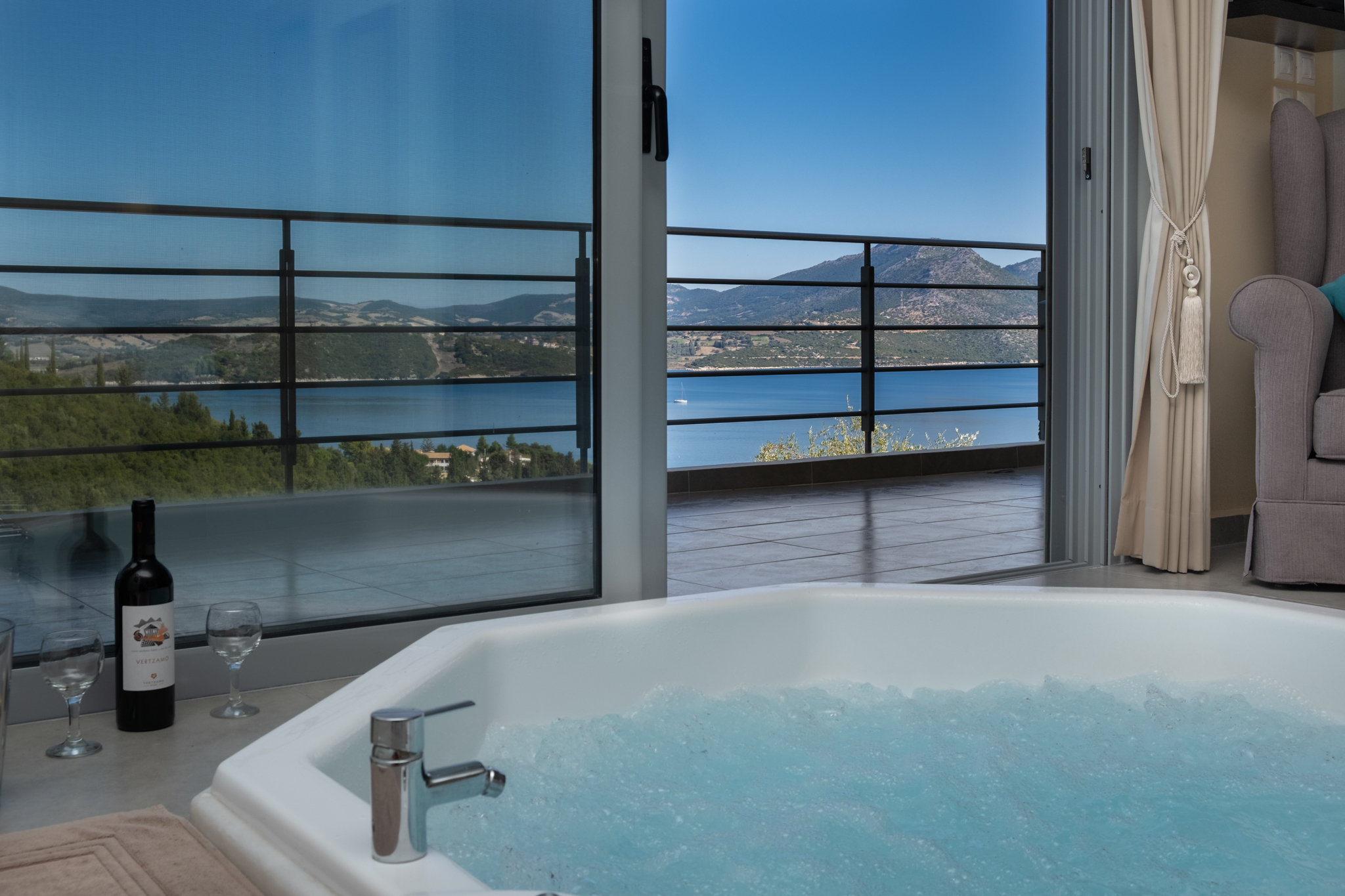 At a glance
A magnificent suite of 65m2 overlooks the Thealos village settlement on its northeast end. Its name is Pasithea who according to Greek mythology was the goddess of relaxation and rest or according to another version she was one of the Three Graces. Due to its privileged location on the highest spot, it combines incomparably the green-clad landscape of the island and its panoramic view to the hospitable Ionian Sea.
Tens of boats and pleasure crafts sail in the peaceful waters combing a cosmopolitan scenery which is supplemented in a wonderful way by the ideal architecture of the exterior area and the high aesthetics of the interior decoration.
Amenities
Kitchen
Air conditioning
DVD
Flat-screen TV
Hydro Massage
Soundproof
Coffee Machine
Outdoor Dining Area
Wi-Fi
Safe
Hand sanitizer
The unified space of the Pasithea suite offers excellent conditions for the accommodation of 3 people. In the living room there is a comfortable sofa which can be transformed into a bed, a comfortable armchair, small functional furniture in food taste, a dining table of good design for four people and a rich electronic equipment for the guests' recreation (TV set, DVD player, WiFi).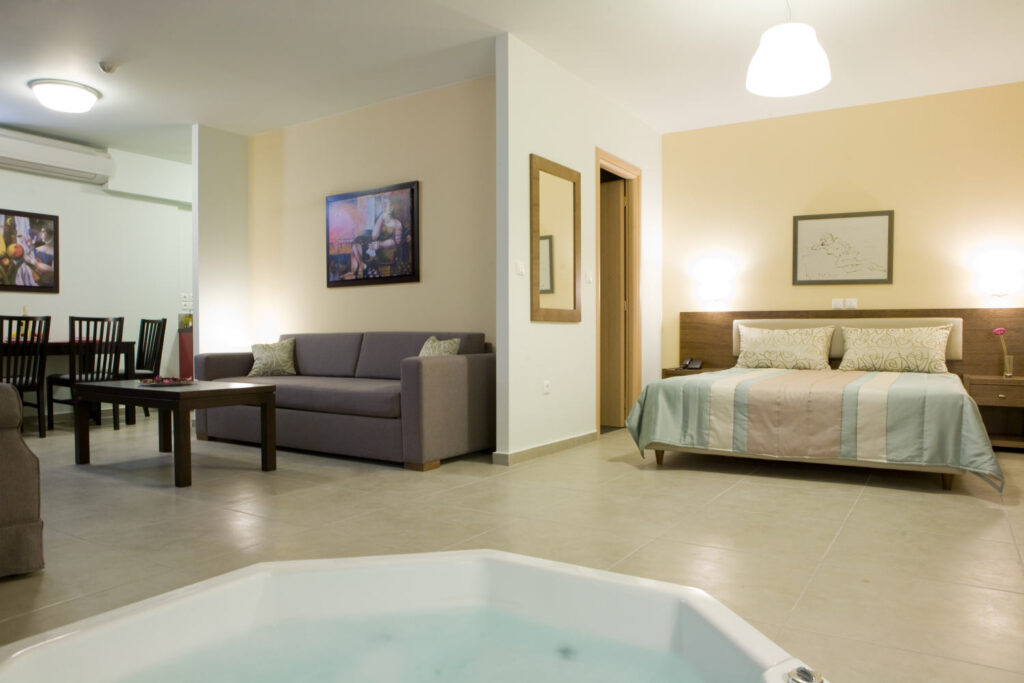 The queen size bed matches with the ecological blankets and the tasteful curtains. The spacious wardrobes follow the same high standards of comfortable accommodation. This surroundings of luxury easy to access and of unique finesse is finished with pleasant ambience that the lamps and the modern paintings create. Guests may deposit their valuables in a safe.
Kitchen is separate from the living room and there is an excellent equipment of electric appliances. There is a fridge, a cooker with an oven, microwave oven a toster, a kettle, a blender and a coffee machine for all tastes, dinnerware, cutlery and glasses.
In the interior of the suite there is an indoor hot tub (Jacuzzi style) for private and special moments of relaxation, good health and revival with a wonderful view of the picturesque bay of Ligia.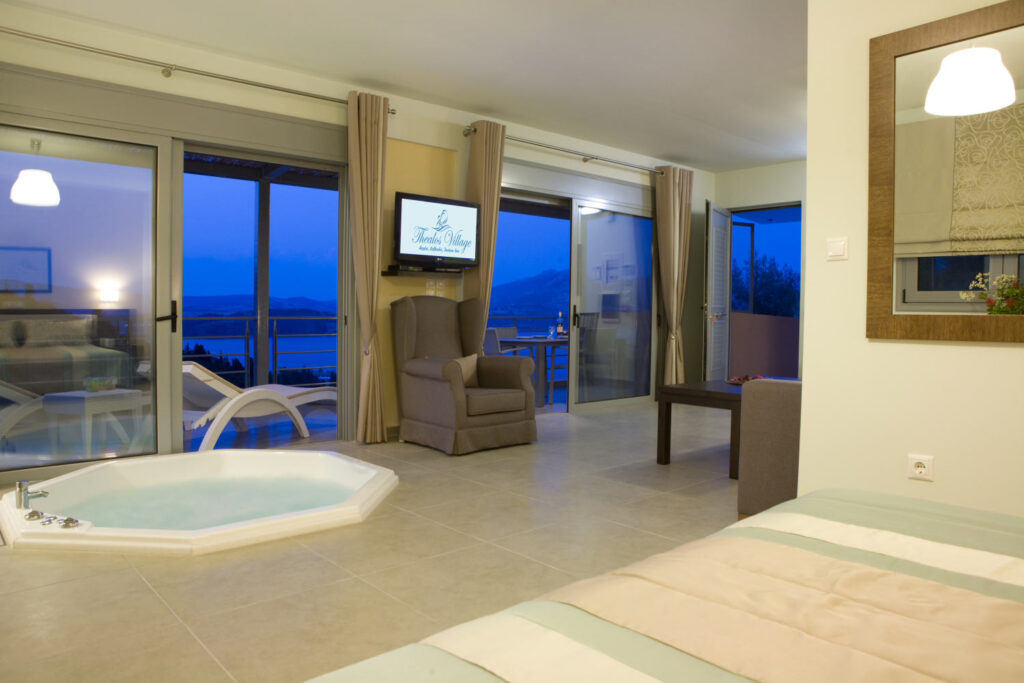 It should be pointed out that in the suite there are ideal bioclimatic/environmental conditions which are ensured by the air conditioning unit(cooling and heating),of the highest quality as well as the ventilation and shading system (rolling shutters, mosquito nets on the window frames) and ecological building materials.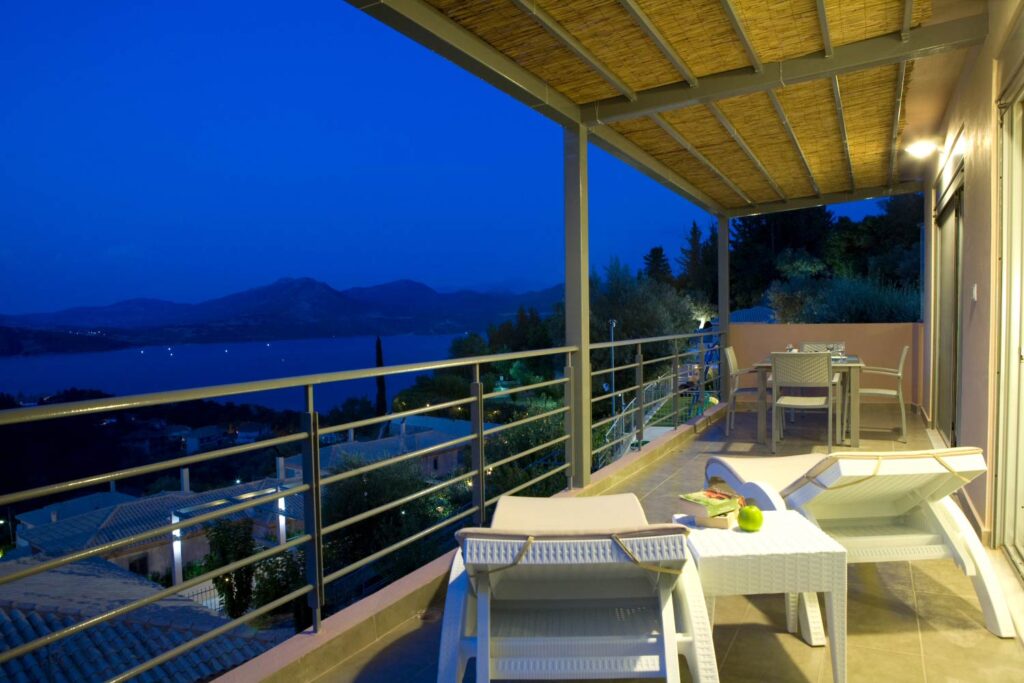 The independent exterior of the suite, the veranda, t he tasteful furniture, the garden architecture designed according to the Mediterranean landscape characteristics create a hospitable environment of discreet accommodation and fine aesthetics. There is a private parking place and two big swimming pools which guests can use, as well as a bbq grill.
Stone lanes, a well –looked-after garden with trees and flowers, comfortable deck-chairs with pergolas, discreet lighting, combine an ideal meeting point of the modern with the traditional landscape of Lefkada.
Prices
(You can contact us for exclusive offers)
Suite
Dates 2023
Minimum
stay
Price per night
Totally relaxed Traveller
28 APRIL – 13 MAY
2
130,00 €
Relaxed Traveller
14 MAY – 2 JUNE
2
150,00 €
Holy Spirit
3 JUNE – 5 JUNE
3
190,00 €
Breezy Traveller
6 JUNE – 1 JULY
4
190,00 €
Been Waiting All Year for This
2 JULY – 22 JULY
5
250,00 €
Yeah! Vacation Finally!
23 JULY – 26 AUGUST
6
280,00 €
Breezy Traveller
27 AUGUST – 9 SEPTEMBER
4
220,00 €
Relaxed Traveller
10 SEPTEMBER – 23 SEPTEMBER
3
150,00 €
Totally Relaxed Traveller
24 SEPTEMBER – 31 OCTOBER
2
130,00 €
Book Directly With Us
Lowest price guarantee / Secure deposit / Exclusive offers